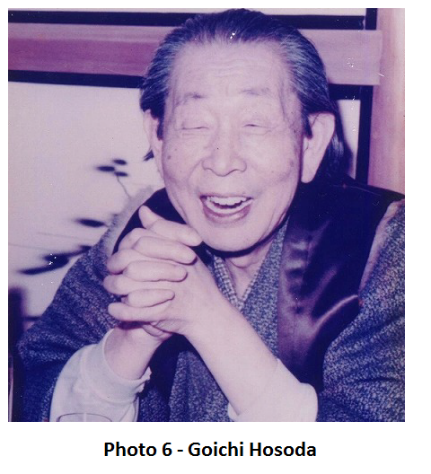 Ever met someone you'd call "a real numbers guy"? I've come across a few.
Roughed-up card counters dumped headlong into Vegas casino kitchen dumpsters. A school janitor who has effortless dalliances with intractable theoretical math problems under the influence of pine-sol fumes. An agoraphobic, thorazine-popping mathematician who pursued the ultimate pattern in the stock market while doggedly pursued by corporate hitmen and Talmudic gangsters until he had an unsettling experience with a drill. A toothpick-counting savant convinced he's a really, really good dancer. C-3PO.
And then there's Goichi Hosoda.
A Japanese newspaperman, Goichi's beat was dutiful coverage of the Japan's centuries-old rice markets, during which he charted prices and eventually formulated a unique conception of support and resistance.
Then in the late 1930s, he created his own supercomputer by gathering a small army of students to run endless computations (chained to their desks, true; but with generous rations) and scenarios in pursuit of an optimal systematic approach to evaluating markets.
So dedicated to the task before him (his wife divorced him, citing irreconcilable differences rooted in her raging jealousy of the numbers 9, 26 and 52), Goichi-san and his cadre of human calculators spent over
20 years
crunching numbers. Finally in 1968, Hosoda published his findings: a system he naturally titled
Ichimoku Kinko Hy
o.
Yep, that's him over there. As you can see, by the end his eyelids were disabled from overuse, he'd developed an inexplicable yet oddly endearing penchant for silk vests, loved frothy beer and was
awfully
pleased with what he had accomplished.
So what does the culmination of this multi-decade research project look like?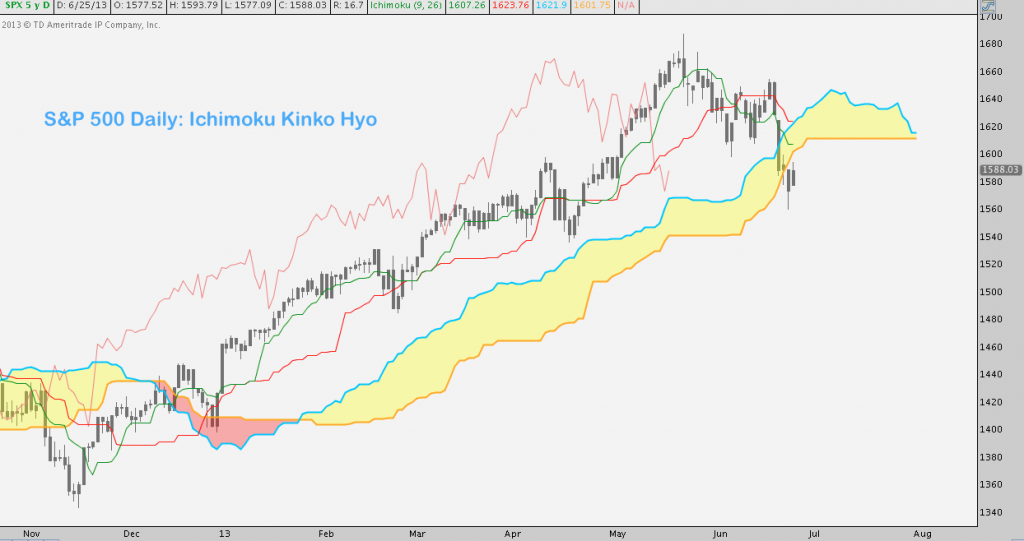 "…What is that?"
Maybe you've seen
Ichimoku
before. Even the phrase – best translated from Japanese as "equilibrium chart at a glance" – is intimidating. If you're at all like me, some mild curiosity aside your initial inclination is to relegate Ichimoku Kinko Hyo (IKH) to that list of "exotic indicators" you shrug at and soon after forget, never to be consulted again. But if you're a trend follower or breakout trader on any time frame, you'd be wise to reconsider.
Not just a monument to one man's obsession, it turns out this bramble bush of indecipherable squiggly lines is a simple-yet-sophisticated and highly effective way of evaluating and trading with the trend of any asset class or instrument you wish.
Measuring Market (Dis)Equilibrium
For a news man in the first half of the 20th century (and perhaps because of it), Hosoda had a fantastically insightful perspective on what markets are – certainly compared to his journalistic and analyst counterparts working in the West at the time. To him, market prices are
human
: they are a social product both determining and being determined by human behavior. Like us individually and collectively, markets are a social creature caught in a dynamic pendulum swinging closer to and then further away from a state of equilibrium. On occasion we trip our limits and exhibit unusual volatility; but reversion to the mean is the rule – people, like markets, can't flourish or even subsist for long at behavioral extremes.
After multiple decades of vision and revision, Hosoda concluded that the (apparent mess of a) chart above was the best quantitative representation of this underlying existential market reality.
A Primer on Cloud Shapes
"Great story: but how does this thing work?"
Ichimoku looks anything but simple: most proponents of the KISS principle would dismiss it out-of-hand because of the clutter it superimposes over price. To make a fair assessment, let's break it down into its constituent parts and then build it back – just as we would do when conducting Ichimoku analysis.
Here's the above chart again, this time annotated with the components of IKH (yes, there's more Japanese):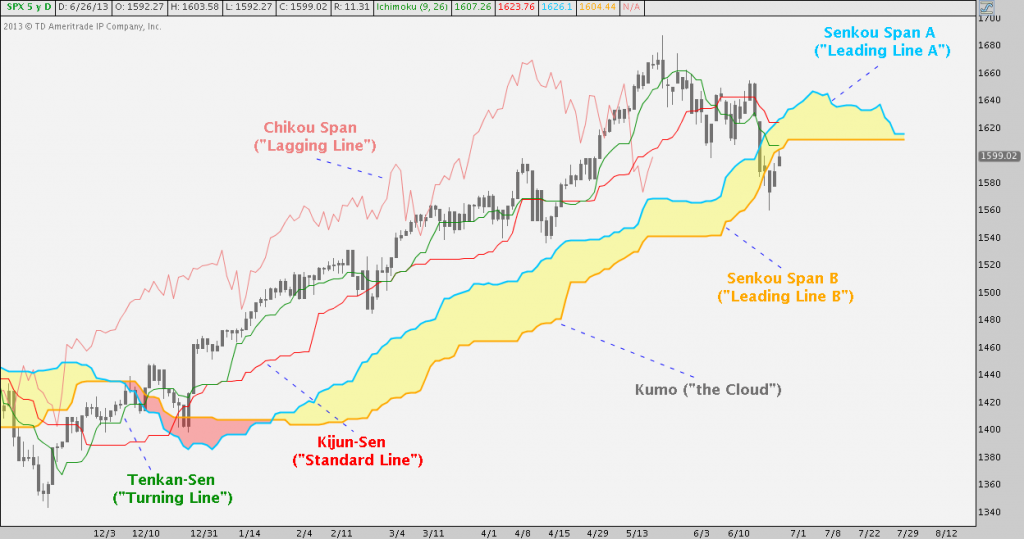 But I won't labor too much over those details here: far more important is to understand Hosoda designed IKH to give immediate information on how close or far a market is to equilibrium; and telltale signs of its return or departure from it. Whether a market is steadily trending (the middle of the S&P 500 chart above…) or rangebound (… the left and right segments above) there are more immediate (Tenkan and Kijun) and more distant (the Cloud) measures to assess both trend strength and volatility.
Let's take each of these pieces in turn. Fair warning: this part reads like a ceiling fan manual, so if you'd rather just get to how IKH is
used
and don't care about how IKH is
built,
skip down to the phrase
THAT'S IT
below.
Tenkan-Sen: derived from a 9-period moving average and as its name ("turning line") implies, it is the aspect of IKH that is most responsive to price.
Kijun-Sen: derived from a 26-period moving average, it is the envelope ("standard line") across which the shorter-term Tenkan line move. Less responsive to price, it is also a more durable and consistent source of trend support/resistance.
If you're thinking "this looks like a dressed-up moving average crossover system", you're not far wrong – but only so far as these go. Itt's key to realize here that these lines are calculated by using
price extremes
(the highest high and lowest low) over their lookback periods (9 and 26 periods), rather than the
closing prices
to which most all moving averages default. This sounds like a subtle distinction; but the result is an approach that more widely encompasses support and resistance: it's the difference between looking at a candlestick or OHLC bar chart and a line chart. The result? A much more incisive measure of a market's range and a clearer picture of its point of equilibrium. S&P again: See if you can spot the differences here: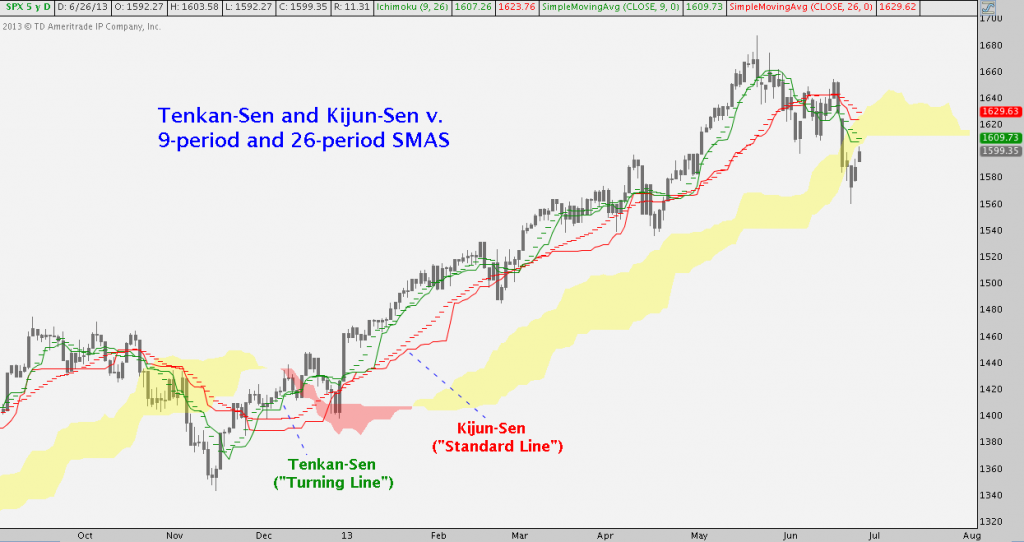 Chikou Span: the "Lagging Line", this measure can seem extraneous at first because it plots the current price 26 periods in the past Sounds useless (in the past? so intentionally lagging?); but the purpose of the Chikou Span is to assess trend direction and intensity by asking "where is price now versus where it was about a month ago?" If Chikou is above/below, you know the trend is up/down and higher highs/lower highs have been the norm. How far it deviates from above/below price 26 periods ago gauges how strong the intervening move has been.
Senkou Span A: takes the current Tenkan and Kijun values together and throws them 26 periods into the future ("leading line").In effect, the averages are averaged and mirrored onto the path ahead. Put another way, the local measures of equilibrium are combined to generate a longer-term, global measure. This is one component of two that make up "the Cloud".
Senkou Span B: like Kijun-Sen x2, with a twist, this second "leading line" looks at the highest high and highest low over the past 52 periods and then throws that data point 26 periods into the future. The result is the longest-term and most durable determinant of equilibrium in Ichimoku Kinko Hyo has to offer. This is the second Cloud component.
THAT'S IT
.
"That's it?!"
Yep – I include all that (hat's off if you made it through) to show you a) Hosoda really did work through every scenario conceivable, b) the ligaments and tendons building out the system are all intertwined and c) that everything serves the greater role of creating a unified picture of what "equilibrium" means for any market at any given time. If you get A, B, and C, don't sweat the details. There is one more component we should all look at together:
Kumo: the Cloud is market equilibrium and all IKH analysis starts and ends with it. Made up of Senkou Span A and Senkou Span B and like them, the Kumo is plotted out front. It has forecasting applications: like a pair of shorter and longer-term moving averages, SSA and SSB periodically flip positions to suggest future trend changes). It also acts as dynamic support/resistance, eschewing too-easily-violated lines for a constantly expanding and contracting zone of equilibrium. Because of the Senkou Span calculations, the top or bottom of the Kumo may even flatline for a time in a strong demonstration of equilibrium while current price moves around.
Signals in the Sky
The basic groundwork laid, I'll now look at 3 independent, detailed examples of how Ichimoku Kinko Hyo works in practice. Throughout I'll allude to some entry and exit strategies, but only to show how the system functions (strategies may be the subject of a future post). It's important to remember:
IKH is about checking up on and trading in and out of confirmed trends.
By definition, the system measures the market against its middle. It measures trend strength, in part, as deviation from this "middle" but is
abysmally bad
at ticking tops or bottoms.
It's worth reiterating, Ichimoku is squarely defined as a
trend following
discipline. It has magnificent periods; and it has whipsaw foibles that can sorely test one's patience and resolve. If this is compatible with your psychological makeup as a trader, IKH can be a fantastic asset; but don't have any illusions about its limitations. In short, don't want the right side of the AAPL chart above so badly you forget about the long, graceless slogs like the one on the left side. Keeping this in mind, whether you hold investments for months on end or only a few days (or both), if you're comfortable tackling the modest learning curve and favor a tactical approach, Ichimoku Kinko Hyo will be a highly valuable addition to your analytical toolbox.