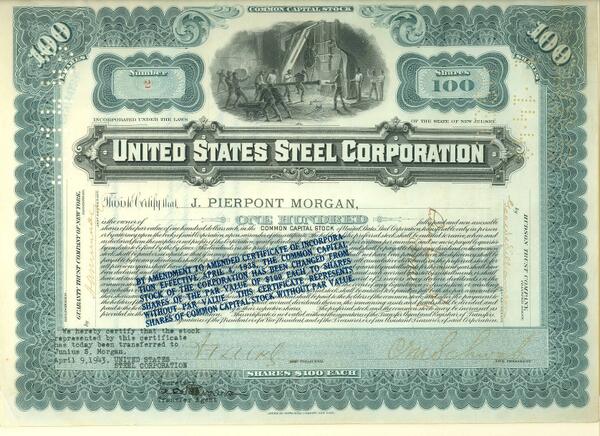 United States Steel Corportation (NYSE:
X
) was the world's first company to surpass the
market capitalization
mark of $1 billion dollars. In the early 1900s, John Piermont Morgan wanted to do for steel what he had done in railroads. The only problem was that Andrew Carnegie controlled the biggest and most efficient producer of steel, Carnegie Steel. Morgan worked with Charles Schwab to convince Carnagie to sell his business into the new entity envisioned by Morgan, U.S. Steel. Carnegie, already pondering retirement, agreed to sell to the Morgan-headed trust for an overall price of about $492 million in stocks and bonds of the new company. Carnegie went on to focus on philanthropy while Schwab necame the president of U.S. Steel.
Unfortunately for Schwab, U.S. Steel was an ungainly welding of mediocre businesses onto Carnegie Steel's lean frame. To bring the rest of the company up to snuff, U.S. Steel needed to raise huge amounts of
capital
. In 1901, Morgan issued $303 million in mortgage bonds, $510 million in preferred stock, and $508 million in common stock – creating a total capitalization of approximately $1.4 billion - on a company with real assets of $682 million. Thus, half of its worth was
goodwill
, but the public bought into the overvalued securities.
U.S. Steel would never fulfill its potential and, although Schwab's management postponed the reckoning, saw its market share eaten up by hungrier companies, including Schwab's Bethlehem Steel, formed when he left U.S. Steel in frustration. In fact, one of the owners of U.S. Steel's dissapointing shares was
Benjamin Graham's
widowed mother. Watching the family's wealth shrink with the shares might have motivated the intelligent investor to focus on hard assets and
intrinsic value
, discounting egregious amounts of goodwill. (Read more about the famous J.P. Morgan in our article,
The Kingpin Of Wall Street: J.P. Morgan
.)