Usually you apply your trading strategy to a long period (blue zone - called In-Sample-Test) and then optimize the result,
by running through many variations of several input parameter combinations in your strategy (Permutations).
Out of all these permutations you then select the best result (Max equity, min draw down etc)
and then start live trading with this optimized set of strategy parameter (red zone - called Out-Of-Sample Test)
Below is a visual representation of this process:



As you might have experienced yourself - the likelihood of this optimized (usually phantastic) result to repeat in the future is very slim,
and disappointing actual trading results usually occur, because just you have "curve-fitted" the strategy input parameter to that particular long period.
Optimizing your strategy on this overall maximum equity, is usually used by various Genetic Optimizers.
Method2: Realistic Walk forward Strategy Backtesting and Optimization of Filter/Sort/Period Settings
In the advanced "walk-forward" method, you optimize on many shorter periods (In-Sample) and then
verify repeatedly in the "future" (Out-Of-Sample) if those strategy parameter still produce favorable results
Below is a visual representation of the walk-forward-backtesting and optimization (WFO) process: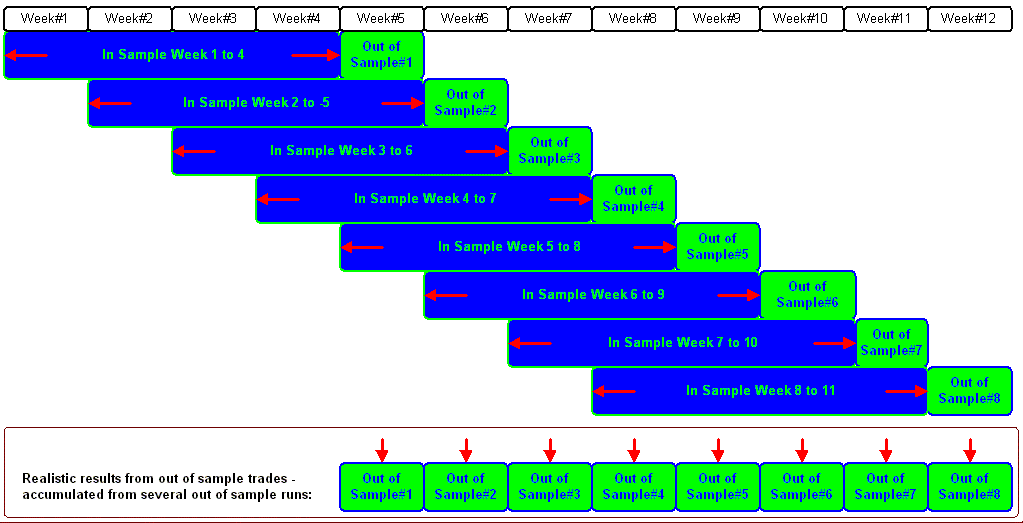 In this example only the first 4 weeks (blue block - called the "In Sample" period) were used in the back testing.
After all the many permutations of the strategy input parameters have been calculated, the WFO filter is applied;
which eliminates many loosing or unrealistic results outright. Then the WFO sort is applied - yielding one final permutation;
which is then applied in the following 5th week (green block - called the "Out of Sample" period).
This process is repeated to all the available data (in this example 12 weeks, with 8 WFO optimization runs);
each time the WFO filter and sort will select a different input parameter permutation for the out-of-sample week.
Finally all separate out-of-sample results are joined and merged into the final overall result.
The likelihood of repeating these results in the future in the "Out of Sample" period is very high and
before you risk your capital our WFO tools provide you with a realistic evaluation how your strategy would perform in the real live market.
Furthermore you can test many different WFO filter and sort algorithms to find the most effective WFO selection method.

Demo Video at: http://www.youtube.com/watch?v=KXrYSJcC0gg

More Info at: http://www.profsoftware.com/bt/wfo.htm and http://www.profsoftware.com/bt/